A Guide to Divorce in Ireland
Liston Family Law has prepared a guide to take you through the stages of a divorce in Ireland.
The questions frequently asked by clients about the divorce process are answered in our guide.
We hope our Guide to Divorce in Ireland will help you to understand the legal process in Ireland, the potential application of it on your situation and how Liston Family Law can help you navigate your way through this difficult time.
Please use the enquiry form on the right if you want to get in touch or request a call-back.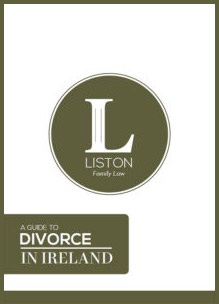 DOWNLOAD OUR DIVORCE GUIDE